Posted on
July 26th, 2005
by darkmoon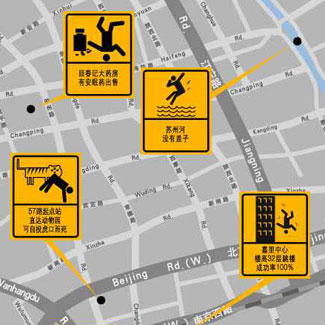 Go figure. Shanghai is becoming a hotbed of suicide areas for young adults. So much that now there is an Internet-driven suicide map guide with fourteen different alternatives to off yourself.

Get the GUIDE here.

Huichunji pharmacy sells sleeping pills.

Suzhou Creek is uncovered.

The #57 bus goes directly to the zoo. You can jump into a tiger's mouth and die.

The Kerry Center is 32 stories tall. Jumping off is 100% successful.

A manhole cover has been stolen – jump into the sewer and drown.

Cars under the Yan'an Road viaduct drive very fast. Accidents happen often.

Changshu Road subway station – lie on the tracks.

Fuxing Park — hanging yourself is simple among the tall, close trees.

Barber stand at 1324 alley – steal a razor and cut your throat.

High-voltage power lines – with 20,000 volts, electrocution is convenient.

Wang's Tofu Stand — crush yourself with a piece of tofu.

Dafa Gardens construction site – there's always something falling.

Filling station – death by self-immolation.

Free and Easy Sauna – death by suffocation.
BoingBoing
<
Shanghaiist